WELCOME
Norway's Constitution Day
17 May
Dear friends,
Welcome to this interactive website in celebration of Norway's Constitution Day. 
With the help of colleagues in various other departments at the Norwegian Ministry of Foreign Affairs, we have developed this website to share a little bit of Norway with you.
Each box on this webpage contains links to short films on a specific topic, such as Norwegian policy, culture or the celebration of Constitution Day. The films include a 17 May greeting by Norway's Ambassador to the UN, Ms Mona Juul, sent from the Security Council Chamber in New York, a speech by Norwegian Minister of International Development, Mr Dag-Inge Ulstein, on Norway's international efforts to combat COVID-19, and many other highlights. We hope you will enjoy them!
We are looking forward to being able to meet face-to-face again in the not-too-distant future. In the meantime we would like to wish all of you a happy digital 17 May.
Best regards,
Department for Culture, Business Relations and Protocol at the Norwegian Ministry of Foreign Affairs
From a 1950s building in Tøyen to a modern museum by Oslo's waterfront: MUNCH will open in autumn 2021. The new MUNCH will be the number one destination for experiencing Edvard Munch's life and art. The facility offers more Munch than ever before, works by other world-class contemporary and Modernist artists, and an outstanding events programme filled with music, performances, film and art talks. With 11 galleries, MUNCH will offer a range of approaches to Edvard Munch's art and life.
12 critically acclaimed Norwegian artists presented to you by Music Norway and the Norwegian Ministry of Foreign Affairs.
Norwegian Crafts Studio visits
Norwegian Crafts is looking at new ways to connect artists, duojárat and other craft professionals with curators and institutions both in and outside Norway. In this film series we invite you into the studios of Norwegian and Norway-based artists, where they talk about their work and about current and upcoming projects.
North Norway accounts for 35 % of Norway's mainland territory, and 9 % of Norway's population lives north of the Arctic Circle. This film presents the Norwegian Government's recent white paper on Arctic policy, which focuses on security, stability and international cooperation. The best way to safeguard Norwegian interests in the Arctic is through the further development of North Norway.
A more socially and economically equal Europe
Norway's foreign policy begins in Europe, and the EEA Agreement forms a key part of the basis for our relations with the EU. Through the EEA and Norway Grants scheme Norway helps to reduce social and economic disparities in Europe. The scheme also strengthens our ties with the 15 beneficiary states.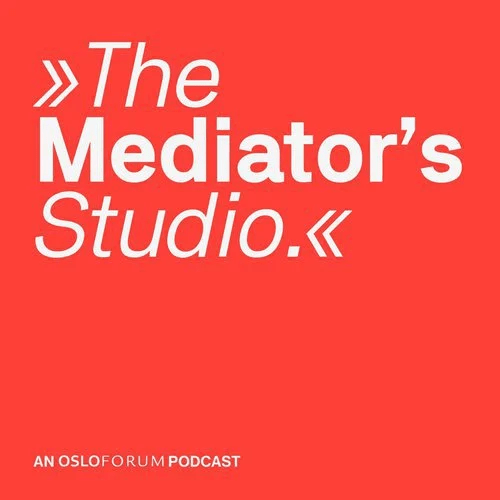 For several decades, Norway has played the role of facilitator between parties to conflicts. Promoting conflict resolution and reconciliation is a central aspect of Norwegian foreign policy. The Mediator's Studio is an Oslo Forum podcast, brought to you by the Norwegian Ministry of Foreign Affairs and the Centre for Humanitarian Dialogue. What happens behind closed doors when peace agreements are negotiated? The Mediator's Studio gives you a glimpse into the normally hidden world of peace diplomacy.
Record High Norwegian Development Assistance
In 2020, Norway provided an all-time high of NOK 39.5 billion in development aid, which is 1.11 % of Norway's gross national income (GNI). In this short film Norway's Minister of International Development Dag-Inge Ulstein speaks about Norway's international efforts to combat COVID-19 and how we are working to ensure that the pandemic does not undermine the long-term prospects of achieving the Sustainable Development Goals.
A sustainable ocean for all
Norway has the world's second longest coastline, and has been a pioneering maritime nation for centuries. We are becoming increasingly aware of the growing threats to ocean health. Our future depends on clean and healthy oceans, where protection and sustainable use go hand in hand. The oceans are under threat from the effects of climate change, pollution, loss of biodiversity and unsustainable use. Safeguarding the oceans for future generations is a shared responsibility and a matter of global urgency. At the end of 2020, the High Level Panel for a Sustainable Ocean Economy launched its conclusions. At the initiative of Prime Minister Solberg, 14 heads of state and government from around the world have come together and agreed upon a bold action agenda.
Norway's sea areas are six times the size of its land area. Seventy per cent of Norway's revenues come from ocean-related industries. More than 200 000 jobs are directly connected to this sector, primarily in traditional industries such as oil and gas, maritime transport and seafood, but also in future-oriented industries such offshore wind power and green shipping. This short film highlights various aspects of Norwegian ocean industries.
Norway in the Security Council
On 1 January, Norway began its term as an elected member of the Security Council for the 2021-2022 period. In this short film, Norway's Permanent Representative to the UN, Ms Mona Juul, sends a 17 May greeting from the Security Council Chamber in New York and outlines Norway's priorities and working methods.
The heart-warming speech by His Majesty King Harald V in 2016 about diversity and unity is one for the history books - and his message is just as powerful today. Three years on, we asked three women what the King's speech meant to them. Is Norway as united as the King hoped?
6 fun facts about Constitution Day.
The Wooden Boat Festival in Risør is a historical journey into coastal handicraft traditions and the art of world-class boat building. Over a few hectic days, the port area, town square and narrow streets in one of Southern Norway's oldest cities are filled with some 15 000 visitors who want to learn more about wooden boats, coastal culture and maritime history.
Norwegian literature has a wider audience than ever before. In a year where so many cultural activities were cancelled because of the pandemic, interest in Norwegian literature abroad has remained high. In 2020 Norwegian books were translated into 48 languages. Through these short films a few Norwegian authors share stories from their newly published books.
The Royal Family celebrating 17 May in 2020
The surprise tour of the capital by Norway's King and Queen and Crown Prince and Crown Princess on 17 May last year added an extra dimension to the festivities during the pandemic.